If you are looking for legal services in Prague, you either live or work here already, or you have identified the Czech capital as an exciting location for business, property or investment potential. Despite the economic downturn of recent years, Prague continues to enjoy a continually developing social and economic prosperity and optimism, plus, of course, the city will always hold the attention of Europe and the wider world, due to its exhilarating beauty, rich cultural life, and extraordinary history.

YOUR INTERNATIONAL LAW SERVICE IN PRAGUE

JGA Legal is one of Prague's premier bilingual legal companies, offering the unique combination of international standards and understanding at local costs. JGA Legal provides the exclusive services of the Czech Republic's only practising dual qualified English and Czech lawyer and international arbitrator, Jan Grozdanovic LLB, who offers clients a wealth of international experience combined with in-depth local knowledge of the whole gambit of legal services, from real estate and company/commercial to employment, matrimonial, litigation and arbitration.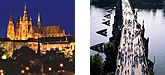 JGA Legal knows the complexities and intricacies of Czech society and legal life which are at the very foundation of this world-renowned city. In taking the decision to do business in the Czech Republic, you have already tuned into the wealth of opportunities that the country has to offer. JGA Legal has itsí finger firmly on the button of Czech and international business and can provide you with the support and companionship that you need to help make your venture in the Czech Republic a true success.

Business practices, legal requirements and service standards in Britain and the Czech Republic are so diverse that they become the basis of jokes amongst the expatriates who live long-term in Prague, just as life in London can be an amusing mystery to the Czechs who go to live, work or study in the UK capital. JGA Legal's founder, Jan Grozdanovic LLB, offers a unique understanding of both countries and their complex legal practices, which could prove invaluable, whether you are from the Czech Republic and planning to expand your business further afield, or a foreign investor with interests in Prague.